6 Best Solar-Powered Generators 2021
Table of Contents What to ConsiderYour Electricity NeedsCapacityPriceWeight and SizeHow We Selected Staff, Courtesy of…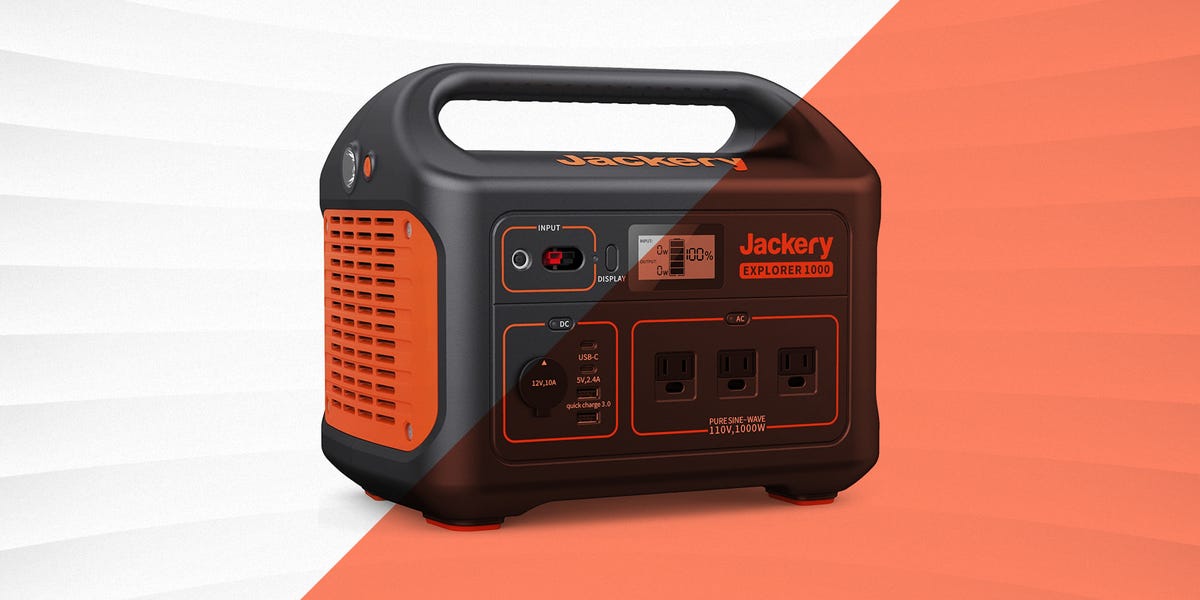 Staff, Courtesy of Jackery
Camping looks a little different these days than it used to. Sure, you can still head into the woods with nothing more than a backpacking tent and go completely analog, but the rise in overlanding and glamping in recent years suggests many people like to bring at least some of the comforts of home with them, be it a portable fridge, lights, camera equipment, or a laptop for working remotely.
The advancement of lithium battery technology in recent years means keeping all of those gadgets charged is a lot easier (and quieter) than it used to be. Campers no longer need noisy, smelly diesel generators to keep the lights on in their RV or their mobile office up and running (a good thing when you're at a campsite that enforces quiet hours). Solar-powered generators, or portable power stations as they're often called, have gone down in both price and weight since their introduction to the market several years ago, all while increasing their charging capacity.
If you're unfamiliar with them, imagine a supersized version of the power bank you likely already carry to charge your phone while traveling, except these typically have built-in inverters and standard 120v outlets so you can easily charge a computer, run a CPAP, or plug in an electric cooler even if you're at a dispersed campsite with no amenities.
What to Consider
Your Electricity Needs
Before you begin comparing portable power stations for camping, you'll first need to figure out exactly what you want to power while you're off the grid. Recharging your phone and camera a couple of times will require far less power than running a portable fridge or powering a camper. If you like numbers, make a list of everything you'd like to use and try to get a rough idea of the power draw of each item. Or, simply look at the power station manufacturer's website—they typically estimate the number of times you'll be able to charge various devices and list those figures in the specs section.
Capacity
The most important thing to consider when looking for a solar-powered generator is its capacity. You'll pay more for higher capacity, but in general you'll want to consider generators with a minimum capacity of around 40 amp hours, or 500 watt hours, which is enough juice for most people for a weekend of camping. With any solar-powered generator, it's best to buy one with more capacity than you think you'll need, and a larger solar panel so you can recharge it quickly. If you're looking for a solar-powered generator to power a camper or act as a backup in your home during a blackout, I recommend looking for one with a capacity of at least 100 amp-hours and pair it with 200 watts of solar panels.
Price
Solar-powered generators vary in price depending on their capacity, but you'll also want to budget for a solar panel, as well, which usually isn't included with the generator.
Weight and Size
Lithium-ion batteries weigh less than traditional deep-cycle batteries and are smaller, so most of the solar-powered generators are lightweight and meant to be portable. That said, they'll still weigh upwards of 10 pounds, and if you need a lot of capacity, they get heavy quickly. If you have a small vehicle or camper and are tight on space, or just don't want to lug around a really heavy generator, it may be worth opting for less charging capacity.
How We Selected
I'm a longtime outdoorsman, camper, and overlanding enthusiast with extensive experience reviewing camping and overlanding equipment for Outside, Gaia GPS, Popular Mechanics, and other publications. I've spent countless nights dispersed camping off the grid in the bed of my truck, rooftop tents, travel trailers, and just about every type of tent imaginable. I've installed a solar charging system in my off-road teardrop trailer and have tested various portable power stations for Outside. For my selections, I considered the charging capacity, price, and weight of the units, as well as solar-powered generators I have direct experience using. I've made sure all of my selections have at least four or more stars on Amazon, along with great reviews from trusted sources like Wirecutter and Business Insider.
Best Pick for Most People
Goal Zero Yeti 500X
Goal Zero
amazon.com
$699.95
Key Specs
• Capacity: 505 watt hours
• Weight: 12.9 lb. 
• Phone charges: 42
Goal Zero's Yeti 500X is a great choice for anyone with fairly minimal charging needs during a weekend camping trip. Goal Zero has been in the game a long time, and the beauty of its portable power stations is how easily they integrate with Goal Zero solar panels, as well as how simple they are to use. The 500X has a built-in solar charge controller, as well as a built-in 120v AC inverter, so you can plug standard household electronics into it. Goal Zero says it'll recharge a phone 42 times and a laptop 10 times, and will power a portable fridge for 20 hours without having to charge it. You can recharge the Yeti 500X with one of Goal Zero's Boulder 100 Panels in 6 to 12 hours, depending on the sun, but you can also recharge it from your car's 12v outlet in 4.5 hours. It has a capacity of 505 watt hours, or 46.8 amp hours. 
I used the predecessor to this portable power station, Goal Zero's Yeti 400 Lithium, extensively and found it to be great for charging small devices like cell phones, camera batteries, and rechargeable lights. On longer camping trips, it would not power my Dometic CFX50 portable fridge as long as the next option on this list, the Dometic PLB40. That said, it has built-in 120v outlets and accepts solar charging more easily than the Dometic, so it is slightly more versatile than the PLB40, and works great for most small-gadget charging needs. With dimensions of 7.5 x 11.25 x 5.8 inches and a weight of 12.9 pounds, the 500X is also lighter and smaller than the unit I tested. The 500X also has a 2-year warranty.  
Easy to use with Goal Zero Panels
Enough capacity for most weekend camping needs
Built-in inverter and 120v outlets
Best for Running a Fridge
Dometic PLB40
Key Specs
• Capacity: 512 watt hours
• Weight: 16 lb.
• Phone charges: Not listed
If your primary goal is to power a portable fridge while camping, and perhaps recharge your phone or other devices that charge via USB, I like Dometic's PLB40. I've been using this portable solar generator for several years and have found it to be the longest lasting battery of this size of the ones I've tried. It's rated at 40 amp hours, or 512 watt hours, which is enough to run a Dometic CFX3 45 fridge for 40 hours—or, long enough for a weekend of camping on a single charge.  
The biggest difference between this and some of the other models listed here is that it's specifically a 12v portable power station and does not have a built-in inverter. Let me break that down: If you're running 12-volt appliances, like an electric cooler, they will be more efficient when powered from a 12-volt source vs. being plugged into and converted to a 120-volt source, like you'd need to do with the Goal Zero 500X listed above. That's how this little unit gives you more run time for powering a fridge than the similarly sized Goal Zero 500X. 
The PLB40 weighs 16 pounds and can be charged from a solar panel, AC outlet at home, or, conveniently, a 12-volt car socket. If you plan to power a portable fridge in your vehicle, connecting the PLB40 to your car's 12v outlet and then the fridge to the PLB40 is one of the simplest ways to keep the PLB40 topped up, especially if you'll be driving a lot.
Purpose-built for powering a fridge and other 12v appliances
Solid, well-built feel
Less charging ports than competitors
Not as plug-and-play with solar options as Goal Zero
Best for Powering Lots of Devices at Once
Ecoflow Delta
EcoFlow
rei.com
$1,099.99
Key Specs
• Capacity: 1260 watt hours
• Weight: 30.9 lb.
• Phone charges: 100+
The EcoFlow DELTA Power Station is Wirecutter's top pick for a portable power station, and for good reason. It has the most ports, and therefore the ability to charge more things at once, than any other portable power station on this list. If you're counting, it has 13 ports, to be exact, including 6 AC ports on the back of the unit.  
It has a capacity of 1260 watt hours, and a max total output of 1800 watts, which is more than enough to power pretty much anything you would bring camping, and is even capable of charging an electric vehicle in a pinch. 
The Delta weighs 30.9 pounds, so it's not the lightest portable power station, but with the ability to charge so many different devices at once, the extra weight is a small price to pay. Perhaps the best feature of the Delta, though, is its ability to be recharged incredibly quickly. Connecting it to four 100-watt solar panels will fully recharge it in 4 to 8 hours, and plugging it into a standard AC outlet at home will recharge it from 0 to 80 percent in under one hour.
Recharges incredibly fast from a home outlet or multiple solar panels
6 AC outlets
Max output higher than others
Less total capacity than some other competitors
Best All-Around
Jackery Explorer 1000
Jackery
amazon.com
$999.00
Key Specs
• Capacity: 1002 watt hours
• Weight: 22 lb.
• Phone charges: 100
The Jackery Explorer 1000 is another highly rated portable power station with a max capacity of 1002 watt hours. Despite the lower capacity rating, the Wirecutter found that the Explorer 1000 powered a tabletop fan for 4.25 hours longer than the Ecoflow Delta, all while being cheaper, lighter, and rated at less capacity, so that's something to keep in mind. That being said, the max output of the Explorer 1000 is 1000 watts, so you can't run higher-wattage appliances and tools like you can with the Ecoflow Delta. 
The Explorer 1000 has 3 standard AC outlets, 2 USB-C ports, a 12v car outlet, and two USB-A outlets, and Jackery says it will power a mini fridge for 17 hours, charge a laptop 8 times, and run an electric grill for 50 minutes. Like other portable power stations, it can be recharged via solar panel, AC outlet, or your vehicle's 12v outlet, and takes 6.5 hours, 5.5 hours, and 11.5 hours to recharge, respectively.  
If you can get by with less capacity, the Jackery Explorer 500 is an Amazon Best Seller and, aside from the smaller battery, nearly identical to the 1000.
Lightweight for the capacity
Priced lower than competitors
Lots of charging options
Some people complain of cheap-feeling build quality
Most Versatile
Goal Zero Yeti 1500X
Goal Zero
amazon.com
$1,999.95
Key Specs
• Capacity: 1516 watt hours
• Weight: 45 lb.
• Phone charges: 127
If you're a serious camper who likes to spend several days or longer off the grid, has a lot of electronics to charge, or is looking for a solar-powered generator to run your camper or RV, the Goal Zero Yeti 1500X is worth considering. With 1516 watt hours, or 140.4 amp hours of charging capacity, the 1500X provides plenty of power to keep the lights on. Some RV companies, like Scout Campers, are even using this exact model to replace traditional and more complicated camper battery and wiring setups. 
The 1500X is Goal Zero's best-selling large power station, and it will power a portable fridge for 61 hours. In fact, if the power goes out at home, it will power a full-sized refrigerator for 28 hours, which shows just how versatile this solar-powered generator is. It has enough juice to recharge a smartphone 127 times and a laptop 31 times, and will power a CPAP for 24 hours. The display will show you how much output you're using, as well as input and the time to empty, which is particularly helpful when you're off the grid. 
The built-in 2000 watt inverter let's you power anything you would with a normal wall outlet at home, like a blender, hair dryer, or circular saw. It has a maximum input of 600 watts, which would allow it to fully charge in just 3 hours. Using just one of Goal Zero's 100-watt solar panels would take you 18 to 36 hours to recharge it. If you want to charge faster at home, you can purchase Goal Zero's 600W Power Supply, which will charge the unit in just 3 hours.  
One of the best features of the 1500X is the ability to add additional components, like the Yeti Home Integration Kit, which allows you to hook it up to your home's circuit breaker panel, or the Yeti Expansion Module, which gives you even more power options for camping by allowing you to recharge the unit from your vehicle's alternator while you're driving
Tons of capacity
Optional add-ons make it very versatile
Heavy at 45 pounds
Less total capacity than some other competitors
Best Budget Option
Jackery Explorer 160
Jackery
amazon.com
$139.99
Key Specs
• Capacity: 167 watt hours
• Weight: 3.97 lb.
• Phone charges: 16
If you're on a tight budget and don't have a lot of power requirements, the Jackery Explorer 160 Portable Power Station is a good choice. At $139, it's the cheapest option on this list, but it also has a max capacity of just 167 watt hours.  
You can power five devices at once, and Jackery says it'll recharge a phone 11 times, or a camera 6.5 times, so it likely has enough capacity to keep your gadgets recharged if you like to keep things simple when camping. It has one USB-C port, 2 USB-A ports, and one 100-watt AC outlet.  
Weighing just 3.8 pounds, it's also the lightest option on this list, making it easy to carry and very travel-friendly.
Lightweight
Budget friendly
Great option for short trips
Not much capacity for long trips or lots of electronics
This content is created and maintained by a third party, and imported onto this page to help users provide their email addresses. You may be able to find more information about this and similar content at piano.io